April 17, Wednesday
We were awakened by the cooing of mourning doves. I wanted to get out for a couple of hours in the morning to check out the grade to the south of Saltillo, which still occasionally requires the use of helpers. We were up and out the door by 0830, having had a great breakfast at the hotel dining room of scrambled huevos, bacon, tortillas, refritos, cantaloupe and papaya along with fresh-squeezed orange juice. We had the dining room to ourselves. Eliot was feeling much better, and even managed a smile or two.
South of Saltillo, two mainline alignments exist--one laid largely on the roadbed of the former narrow-gauge Coahuila y Zacatecas. The CyZ and the former NdeM standard-gauge line crossed at grade at Encantada, about ten miles south of the new (mid-1960s) Saltillo depot, one of the few places, I'm aware of where a CTC interlocking protected a narrow-gauge crossing. The CyZ was narrow-gauge until late 1976/early 1977, when it and the NdeM were consolidated into one standard-gauge line between Saltillo and Carneros. Parts of the CyZ were standard gauged and parts ripped up. In recent years, a portion of the old CyZ roadbed has been used for a second mainline from Saltillo to Encantada, where another portion of the old CyZ was rebuilt to reach a new NAFTA-era business park where, among other customers, DaimlerChrysler has a huge assembly plant. Saltillo is quite the NAFTA success story, for north of town at Ramos Arizipe, is located a DaimlerChrysler engine plant and an assembly plant for General Motors. Needless to say, there's quite a bit of automobile traffic on the railroads through Saltillo. TFM is the main player, but FXE has a line of its own to Ramos Arizipe (with rights, apparently, into Saltillo terminal) from the Monterrey and Piedras Negras mainlines to Torreón.
| | | |
| --- | --- | --- |
| At the Saltillo depot, which I finally found after a nerve-wracking introduction to rush-hour Mexican city driving, one of TFM's older locomotives, SDP40 1321, was switching. Next to it, a four-unit set of Super 7 GE's and SD70MAC's was awaiting a crew. Next door, a four-unit set of SD40-2's wearing FMN and FXE paint were awaiting their crew. | | |
| | | |
| --- | --- | --- |
| | | I felt rushed for time, as I really wanted to get up the hill and see the railroad to Carneros. Back through town, then south on Highway 54, as though going to Zacatecas, we caught up to a road switcher headed for the business park near Encantada, a pair of FNM-painted Super 7 GE's and a dozen or so cars. |
We continued toward Carneros, detouring to check out the south portal of the tunnel about 2 miles north of the summit. At the north end of the siding at Carneros, a northbound sat waiting for. . . what? We drove up the rough access road to trackside, and I got out with a camera and a handful of prints of train photos I'd taken to give to the crew. (a suggestion by Chris Palmieri, who said that not only will the train crews appreciate the gesture, they'd get some inkling of what the hell you're doing wandering around in the middle of Mexico photographing trains.) The photos did the trick, the engineer inspecting his two SD70MACs jesturing his appreciation. But neither one of us understood each other. We both shared a laugh out of the situation, and I took a few photos and left, probably giving the crew something to talk about for the rest of the day!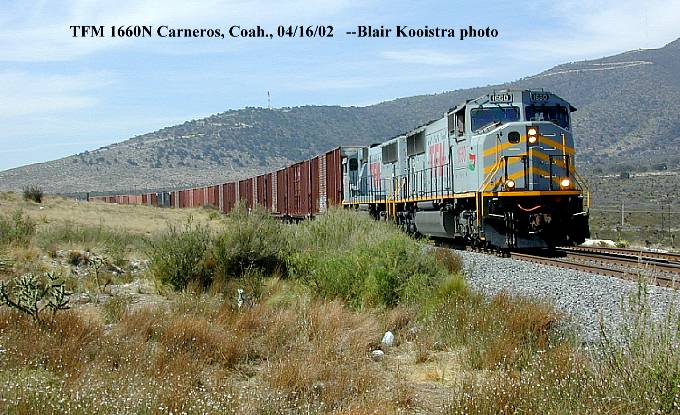 By now, the sun was getting pretty high, and the temperature was climbing as well. We headed into the village of Carneros and loaded up on bottles of Coke (Mexican Coke in glass bottles--as good as the famed Dublin Dr. Pepper!). We noted a standard-gauge stub track on part of the original CyZ line to Concepción del Oro, used to store crippled (mostly US) freight cars. At Carneros, a pair of new TFM units--one AC4400 and an SD70MAC--waited with a crew on board. A helper?
Back to Saltillo, then out of town towards Torreón. As on the drive down from Laredo, we opted for the free two-lane road closer to the railroad instead of the more direct toll road. In this case, Mexico Highway 40, 254 kilometers, much of it dead-straight west across the Desierto de Mayran. Out of sight but not too far away, the FXE mainline cut across the desert.
| | | |
| --- | --- | --- |
| We detoured only to go to the dead-ass little town of Hipólito, which was featured in the Pentrex "Northern Mexico Rails" tape from the early 1990s as a division point of the FMN. Well, there was little left in Hipólito today. The town is largely abandoned, though there is a small school, a couple of bars and a few inhabited homes. The structures of the railroad are falling into disrepair, though the depot, freight house, and six-stall roundhouse--and turntable--are still intact, but crumbling into ruins. | | |
| | | |
| --- | --- | --- |
| | | We chatted with a maintenance of way crew eating their lunch in their gasoline speeder--remember those?--beside the mainline. They are based in Paredón, about 40 miles to the east, and said that Hipólito lost division point status in 1994. They were most gracious--again, a few of those train photographs passed out generated tremendous goodwill--and were quite surprised to see a "gringo" photographer emerge from out of nowhere. . .even more amazed when it turned out he was a train dispatcher! Maintenance of way? Yeah, I told them through my wife's interpretation, "I try to keep em off the tracks ALL I can!" |
| | | |
| --- | --- | --- |
| Every few miles along Highway 40 is another small settlement, which invariably has a half-dozen small restaurants named "Restaurant [Owner's Wife's Name]". Next door to that is a rundown building advertising "VULKA 24 HORAS"--clearly, the repair of flat car tires is a cottage industry in northern Mexico. With the vast number of tire repairmen along Mexican highways, nobody is getting rich doing this. | | |
You have lots of time to look at the details of these wide spots in a wide place, because traffic speeds are regulated by "topes," which are king-hell speed bumps. They come in many varieties: Vibradores, which are stout rumble strips which vibrate you to death if you go too fast; the traditional topes, which is a 4-inch or so high strip of asphalt, concrete or in extreme cases, steel, laid across the road; or a series of road-turtles-on-steroids, those little bumps found in the U.S. taken to an extreme size. When the highway sign says "Topes 300m" you best slow down.
We arrived in Torreón by 5pm, and spent the rest of the evening meeting Mary's brother, two sisters, in laws, two nephews, and assorted neighbors.
Introduction
April 15, Monday
April 16, Tuesday
April 17, Wednesday
April 18, Thursday
April 19, Friday
April 20, Saturday
April 21, Sunday
April 22, Monday